Chels Barn and Toft Barn for 24 guests
Midlands and the Peak District
Near Macclesfield
Hen Party Friendly

Stag Party Friendly

Pet Friendly

Accessible Friendly

Hot Tub

*

BBQ
Pricing & Booking
Chels Barn and Toft Barn - Peak District
Sleeps 24 guests (12 + 12)
Special Offer: We are running 3 nights for the price of 2 for all weekends (Sunday night free)!
Looking over the beautiful Peak District lies Chels Barn and Toft Barn, found opposite one another in the same courtyard. Both of these unique converted barns sleep 12 guests each, in a total of 12 bedrooms, with 6 bedrooms found in each barn. Both these big houses to rent in the Peak District have wonderful private gardens, perfect for a summer BBQ or even to relax with loved ones looking over the Cheshire plains. Whats more you can even rent out a hot tub from a third party supplier, and spend a tranquil evening under the stars.
Chels Barn has a large living room and dining room meaning that all your guests can be together at the same time, and Toft Barn has a recently renovated modern living room, perfect for your guests that want to relax away from the main party. You will find 2 modern fitted kitchens at your disposal in these big houses to rent in the Peak District to cook a scrummy meal for everyone, or even bring in a local caterer so that you can sit back and relax!
If you would like to invite 2 - 4 more sleeping guests, you can rent the self-sufficient Toft Nook which is also located on the same property.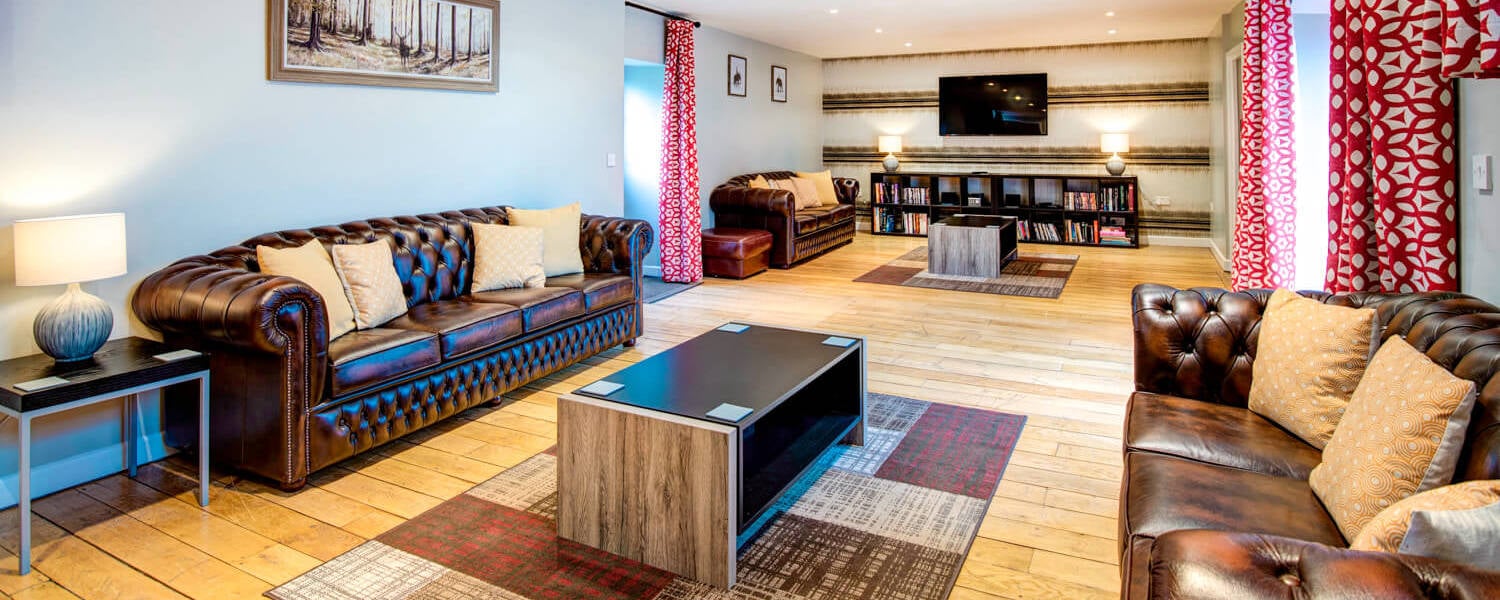 Key Features:
12 bedrooms (2 triple, 4 doubles, 2 singles, 4 twins), 4 of the bedrooms are on the ground floor & 9 showers/bathrooms
2 spacious and well-lit reception rooms
2 modern fitted kitchens
2 large dining rooms, one for up to 24 guests, the other for 14
Large private gardens with an outdoor table tennis table by Toft Barn
Hot Tub from a third party supplier (see more below)
3 Great country pubs under 10 minutes drive
Living Room
Both venues have a lovely and spacious living room with an attractive oak floor for all your guests to be together. In the morning, you can relax in Chels Barn's living room on the squashy leather settees while the sun pours through the old 'owl hole' window. This window allows beautiful colours to dance around the room because of its antique stained glass. Toft Barn's living room has direct access onto the garden which is perfect for summer BBQs. Sink into the comfy sofas and enjoy the flat-screen TV, DVD player, stereo (just bring your own aux cable and music device) and plenty of books. A place for all your guests to party or relax together.
Dining Room and Kitchen
The best way to have some quality time with your friends and family is around the dining table! Chels Barn's dining room perfectly fits 24 guests which means that all of your guests can comfortably sit around one table and enjoy their meal within a high ceiling room while resting their feet on travertine stone floor. Toft Barn's dining room can fit 12 of your guests, it leads into an Italian kitchen, which has a large fridge/freezer, a Neff double oven, a microwave, large Dualit toaster and lots of other cooking tools. Both kitchens have plenty of utensils, cutlery and plates for all your guests.
Bedrooms and Bathrooms
We know how important it is for our guests to have a good night sleep, that's why we made sure that each of our beds has a comfortable mattress and warm cosy duvets with fresh linen (except for cot linen as we find parents prefer bringing their own), and towels.
Toft Barn has 6 bedrooms (4 twins, 2 doubles). One twin bedroom located on the ground floor with an access friendly en-suite wet room, with a shower stool. Whereas, the 3 twins and 2 doubles are located on the first floor sided with 4 modern bath/shower rooms with plenty of hot water. Chels Barn has 6 bedrooms (2 doubles, 2 singles, 2 triples), sided by 4 modern bath/shower rooms. In both the barns bedrooms you will find unique oak beams, a drawback to the history of the venues.
Gardens
Surrounding both barns, there are miles of public footpaths and wonderful Peak District walks for your guests to discover. Both Toft Barn and Chels Barn have lovely private gardens, with breathtaking views over the valley for miles, and the hills of the Peak District. As well as an outdoor seating for a perfect BBQ and lots of fun outdoor entertaining.
Wifi
You can find free WiFi at both these big houses to rent in the Peak District, but please note due to our location we are at dependant on our suppliers for speed!
Hot Tubs at Chals Barn and Toft Barn
Looking to relax under the stars with your loved ones in a hot tub? Rent one out from a third party supplier, we can offer a number of recommendations. Please note we do charge an extra £40 for on-site fee use. Call for more information!
Certificate of Excellence
We own and manage Chels and Toft Barn ourselves, and have an amazing team that keeps them up to the standards we expect so that all our guests have a lovely and wonderful time. For the fourth year in a row we have won the Trip Advisor Certificate of Excellence. We like to be transparent with our reviews, and you can find them on our Trip Advisor page or our Google Business page.
On Site (or via 3rd Party Suppliers that can come to the venue):
Cocktail Making
Beer Making
Archery
Walking
Murder Mystery
Barbecue
Spa treatment
Gin & Whisky Tasting
Laser clay shooting
Off Site:
Wine Tasting
4 x 4 Driving
Go-Karting
Quad Biking
Archery
Clay Pigeon Shooting
Fishing - Fly
Horse Riding
Murder Mystery
Cocktail Making
Spa
Abseiling
Assault Course
Ballooning
Caving
Climbing Wall
Parachuting
Rock Climbing
Beer Making
Walking
Beer tasting
Boating
Swimming
Chels Barn and Toft Barn for 24 guests
Near Macclesfield, Staffordshire,
Closest Train Station :
Stoke on Trent 13 miles (West Coast Mainline to London Euston c 1hour and 35 minutes) Macclesfield 12 miles (West Coast Mainline to Manchester c 45 minutes)
Closest Airport :
Manchester airport 24 miles, East Midlands Airport 52 miles, Birmingham Airport 70 miles
Nearby Town :
Leek -  5 miles
Nearby Shop :
Leek 5 miles has many independent interesting shops and the following supermarkets; Waitrose, Sainsburys, Morrissons, Aldi
Nearby Eatery :
Leek 5 miles has a variety of restaurants. Lots of lovely pubs in nearby villages c2miles e.g. The Lazy Trout at Meerbrook, The Ship Inn at Wincle and The Royal Oak at Rushton Spencer
Pricing Notes
Booking fee: £80 (non-refundable)
Booking process: 25% booking deposit & 75% balance taken 10 weeks before the arrival date
Security deposit: £750 (taken in a form of a pre-authorisation)
Check-in and check-out times: 4pm - 10am
Extras:
Pets: £30 per pet
Day guest: £15 per person
Hot Tub hire: £40 (covers the costs of water and electricity; to hire a hot tub we recommend midlandhottubhire.co.uk)
Early check-in or late check-out: £150
Chels Barn is located within the courtyard of Toft Hall. The barn was built around 1860 approximately in the mid Victorian era (no one is exactly sure when).
Toft Barn, goes back to the 1700s and sits within the same courtyard s Toft Hall, just below the main Hall (no one is exactly sure about the exact date as-well).
Regarding the Toft estate: The King's representative in the county, William Armett, was living there by 1741. According to a History of the County of Stafford volume 7 "he improved the house and laid out a walled garden. Known at Toft Hall by 1775, the house was remodelled and extended to the south in the mid 19th century".
We actually think that both barns go way back in time, as we found a coin hidden behind the plaster which dated back to 1794 which might have been placed their by the builders for good luck and the small stones used for building material are another proof of its old age. An unfortunate event occurred, where a previous owner had an accident with a shot gun, but luckily he survived!
Until the 1970s, both barns were for sheep and cattle, then they fell into disrepair. There were a number of divisions separating the animals inside the barns. Moreover, there was a hay loft above, where hay and straw would be stored for winter fodder.
Party Houses was given permission in 2005 to transform Chels Barn and Toft Barn into the beautiful barns they are today. The specialist heritage architect made sure that the existing window and door openings were carefully preserved. One challenge we faced was finding the huge oak beam that had to be replaced in Chels Barn, sadly we are not sure of its original use as the builder said that finding it is like searching for a hens tooth although all the other beams are original.
We hope that you enjoy staying here and being part of a long history!
9th September now only £3, 000, down from £4, 200! 7th October now only £3, 300 down from £4, 000!

Roaches Hall for 30 guests

Near Leek
Midlands and the Peak District

Sleeps: 30

Bedrooms: 13

Dining: 34

Toft Hall for 20 guests

Near Macclesfield
Midlands and the Peak District

Sleeps: 20

Bedrooms: 10

Dining: 20