Toft Barn for 12 guests
Midlands and the Peak District
Near Macclesfield
Hen Party Friendly

Stag Party Friendly

Pet Friendly

Accessible Friendly

Hot Tub

*

BBQ
Pricing & Booking
Toft Barn - Peak District
Sleeps 12 guests (+14 guests with Toft Nook and Chels Barn)
Special Offer: We are running 3 nights for the price of 2 for all weekends (Sunday night free)!
You can add further guests to your party by adding some other venues in the same courtyard.
14 Guests: With the hiring of Toft Nook
24 Guests: With the hiring of Chels Barn
26 Guests: With the hiring of Chels Barn and Toft Nook
Toft Barn, itself is a beautiful and very old (the historic house experts think it could date back in part over 350 years) detached stone barn. It is situated in the courtyard surrounding Toft Hall. If you want to accommodate an additional two guests, the lovely Toft Nook is a small detached barn in the same courtyard as this holiday letting in the Peak District and has a double bedroom, living room/kitchen and shower room for a small additional charge. If you want to invite even more guests, this Peak District venue can be combined with Chels Barn and Toft Nook to fit up to 25 guests. Both extra properties are within a few seconds walk from Toft Barn in the same courtyard.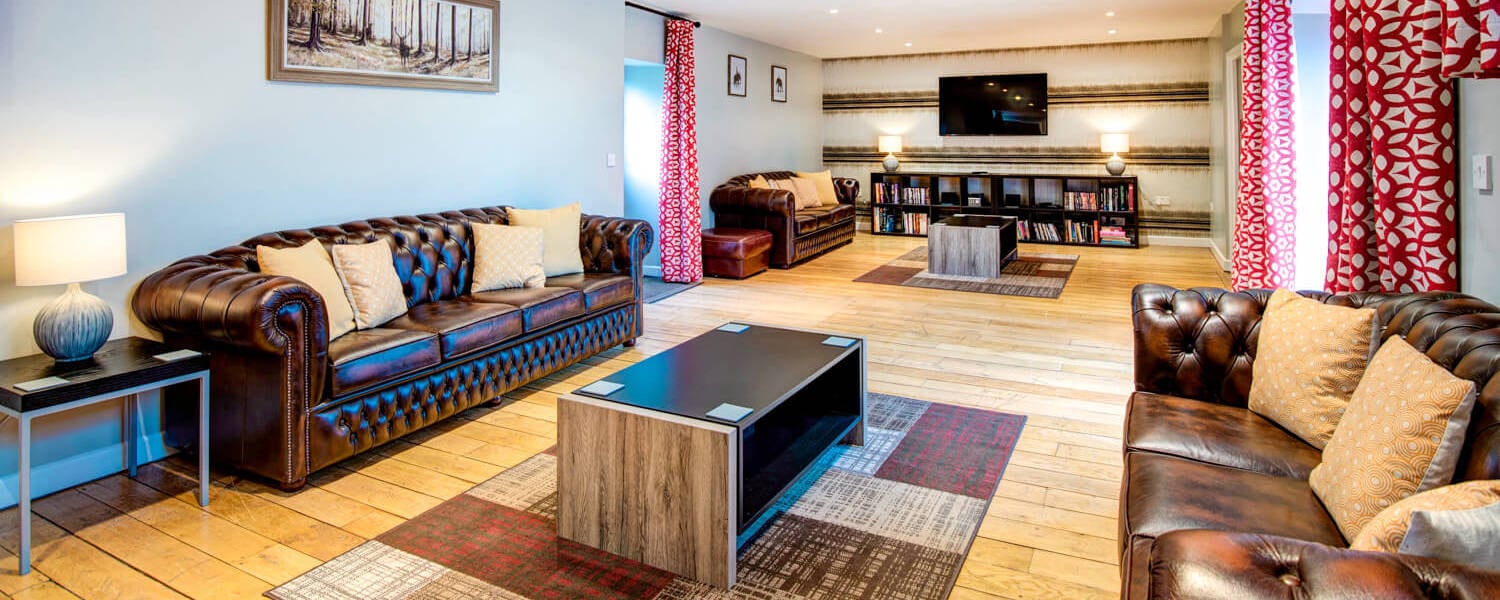 In summary:
Six bedrooms (2 doubles, 4 twins), including one that is easily accessible on the ground level
Five bath/shower rooms
Large living room with underfloor heating
Dining room for up to 12 guests
Modern fitted kitchen
Private Garden
Bed linen (except for cot linen as we find parents prefer bringing their own), towels, central heating, electricity and logs all included in the price
3 Great country pubs under 10 minutes drive
Outdoor table tennis table
Hot tub from a third party supplier (see below for more)
Living Room
The large living room at this Peak District venue captures the heart of this unique barn conversion, it comes with an attractive and practical oak floor, as well as comfy warm sofas to sink into so that you and all your guests can party together. It has access directly onto the garden, perfect for summer BBQ's and Peak District walks. Like all our holiday lettings, it has a flat-screen TV, DVD player, stereo (just bring your own AUX cable and music device) and plenty of books and games.
Dining Room and Kitchen
What better time to catch up with friends and family than over a celebration meal? That's why Toft Barns dining room can fit all your guests around a single table. The dining room leads into an Italian kitchen, fitted with a 4 ring hob, a large fridge/freezer, a Neff double oven, large Dualit toaster, microwave and lots of pots, pans, serving dishes etc.
Fancy something different? Hiring a chef is a popular option for many of our guests, it allows you to sit back, relax and enjoy a stunning 4-course meal – just like your own private restaurant (you can even bring your own drink, saving expensive restaurant alcohol prices!).
Bedrooms and Bathrooms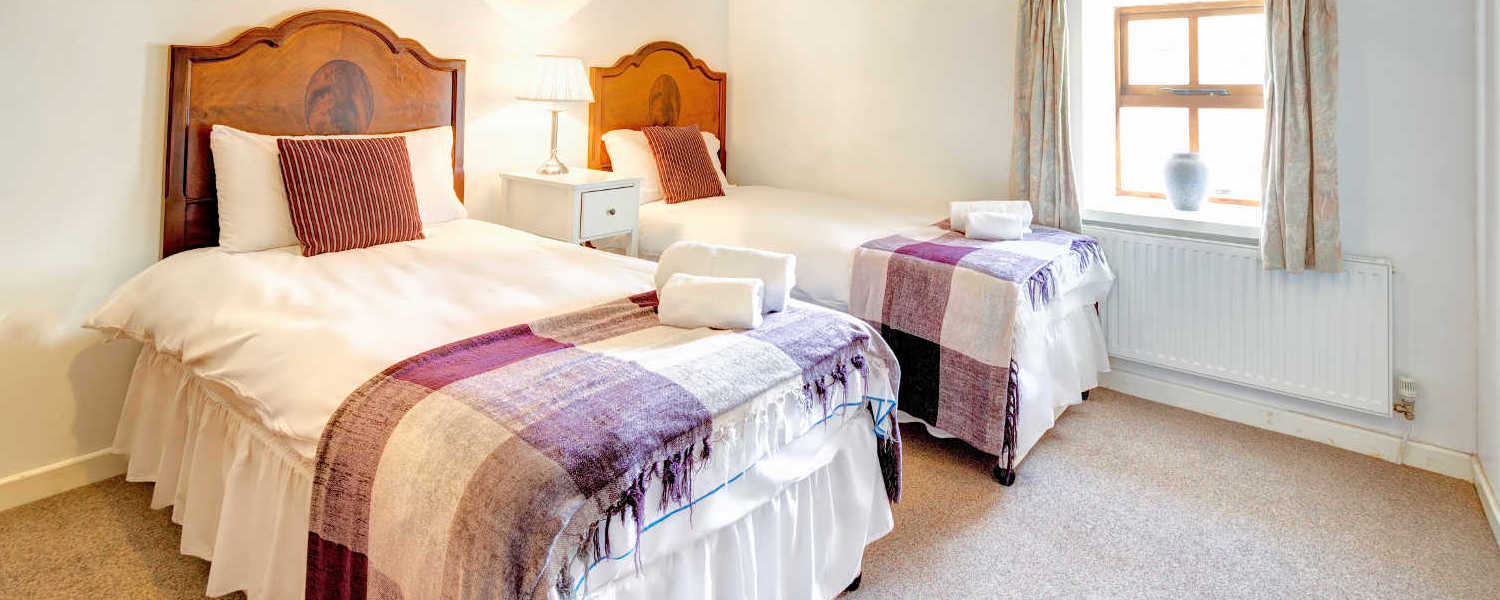 All 6 bedrooms (4 twins, 2 doubles) at this holiday letting in the Peak District come with wonderfully thick duvets and comfortable mattresses; we've been welcoming guests for over ten years we know how important it is you to get a lovely night sleep!
On the ground floor, there is one accessible twin bedroom with an access friendly en-suite wet room, with a shower stool.
On the first floor, there are 3 twins, and 2 doubles, all having warm carpets, as well interesting beams and crisp white linens. There are 4 modern bath/shower rooms on the first floor and a large mega flow ensures there is plenty of hot water!
Gardens at Toft Barn
Surrounding this Peak District venue, there are miles and miles of public footpaths for your group to explore. You have approximately an acre of the private field for your own use (although this is kept uncut in the summer for the protection of nesting hares and birds), as well as a lovely garden, with the most stunning of views over the valley for miles, as well as a BBQ and lots of seating for the perfect outdoor entertaining!
Wifi
Toft Barn has free WiFi, access, but please note that due to our location we are dependent on our provider for speed.
Hot Tub at Toft Barn
We don't have a hot tub at this Peak District holiday cottage, but it possible to rent one out from a third party supplier. Please note we do charge an extra £40 for-site hot tubs. Call for more information!
Accessibility friendly
We want everyone to be able to enjoy Toft Barn, so we have one ground floor bedroom (the twin below), which comes with an accessible en-suite wetroom. Toft Barn is not completely wheelchair accessible, eg as there is one step up from the living room to the dining room and kitchen. Please check our Access Statement if this is appropriate for your own needs.
Activities at Toft Barn
Whatever the age, gender or interests of your group, we can assure you that the Peak District has plenty to offer for everyone. From Alton Towers to wine tasting, there is a fantastic selection of activities to do in Toft Barn or out and about, visit our "Experience" section or even give us a call/ email to find out more.
Certificate of Excellence
For the fourth year running, we have won the Trip Advisor Certificate of Excellence. We own and run Toft Barn so you can be rest assured that our high standards are met! You can find all of these on our Trip Advisor page – we like to be transparent about feedback!). Click on the reviews section to see more.
If you want to see more venues that can be rented in the Midland and the Peak District. Click here.
Toft Barn Access Statement
Introduction
Toft Barn is a lovely barn conversion. It has a large reception room, a dining room to seat 12 and kitchen and 1 ground floor bedroom and 1 ground floor wet room. Upstairs there are a further 5 bedrooms and 4 bath/shower rooms. There is 1 step down into the living room from the dining room.
Pre Arrival
· We can offer the use of a Deaf Guard system for guests who are hard of hearing and unlikely to hear the fire alarm system. This is placed under your pillow at might and will vibrate and lights flash should the fire alarms go off. Please let us know before arrival if you wish to borrow the Deaf Guard (free of charge).
· A telescopic ramp can be provided – please book in advance. It is a 7 foot twin ramp, overall width 260mm (each), useable width (internal each) 200mm, load maximum 230 kgs with a 65mm edge. They are made of strong aluminium with a black non slip covering suitable for heavy wheelchairs and scooters. It is your responsibility to ensure that the ramp is suitable for your purposes before use. (Free of charge)
· We can also provide a plastic bathing stool for use in the wet room shower. Again, please let us know before arrival. (Free of charge).
· Hire of additional mobility equipment can be arranged through Moorland Mobility (who will also deliver and collect). Please call Malcolm on 01538 381515 (closed Sundays) or visit moorlandmobility.co.uk. Alternatively the local Red Cross also have some equipment for loan free of charge.
· In Leek there are accessible toilets (on RADAR key schemes) in Silk Street, Leek Bus Station and in the council offices at Moorlands House off Stockwell Street
· There is a Shop Mobility Scheme at The Potteries Shopping Centre in Hanley, Stoke on Trent and also in Macclesfield
· The nearest shops are in Leek (c 7 miles) but Tesco.com and peakdistrictfinefoods.co.uk (local farmers market on wheels) will both deliver
· The nearest train station is Stoke on Trent (London Euston c 1hour 35 minutes)
· There are usually accessible taxis at the station
· Alternatively travel to Macclesfield Station and catch the bus from Macclesfield to Ashbourne which stops in Rushton (c 2 miles)
Registered Assistance Dogs are very welcome at no charge
Arrival and Car Parking Facilities
· To ensure that your accommodation is ready we ask that guests do not arrive before 3.30pm. earlier arrival my be possible by prior arrangement
· There is plenty of free parking outside Toft Barn on the gravel driveway which slopes gently
· Cars can be parked immediately outside the second front door, with plenty of room for access to the vehicle
· There is outside lighting as night which lights up on sensitivity of movement
· There is access to Toft Barn via a door with one step. A car can drive right up to this door.
Main Entrance and Reception
· There are several entrances to Toft Barn.
· The front door has one step down (14cm) and cars can be parked directly outside.
· The downstairs hall floor is of oak from the living room with a step up to the dining room (12 cm)
· The downstairs bedroom has one step 4cm from the outside door
· The door into the kitchen from the outside has two steps inside it at 12 and 13 cm respectively
· There is a door to the rear garden with weatherboard lip of c 2cm after one step up from the living room; beyond this door is a stone path.
Public Areas
· There are no lifts
· There are no public phones, but mobile reception is available on all networks (although sometimes you have to move around the property to optimise reception)
· Lighting varies by room. Most rooms have central pendants. The kitchen and Living room are lit by spotlights.
· All exit routes, including staircases and hallways, have emergency lighting which will come on in the event of a power failure
· The staircase is carpeted and has a handrail. The staircase is 95cm wide..
· There is one ground floor toilet.
· Both hallways are painted white
Dining Room
· The dining room has two doors into it – via the hallway (width 74cm), and the kitchen (width 74cm)
· The floor is solid oak. The height of the under space of the dining table is 62cm from the floor and the table is 72cm high.
The dining table is 3.33 feet x 9 feet.
· Chairs (all moveable) there are 12 chairs with padded seats and no arms. The chairs are 47cm high
Lounge
· This is accessed via the hallway (door 81cm wide); or directly from outside (two doors with weather lips only and rear door (with 1 steps up to outside).
· Outside the living room is a stone pathway and field.
· Flooring is of solid oak and rugs.
· Sofas and easy chairs are provided seating up to 12 guests
· A flat screen TV is provided with remote control as well as DVD player
· A Hifi and CD player are provided
Laundry
· A domestic washer/dryer is provided in the kitchen. It is front loading
· An iron and ironing board is provided
Bedrooms
· There are six bedrooms at Toft Barn
· Ground Floor – 1 twin with ensuite wet room
· First Floor – 2 doubles, 2 twin, 1 small twin with 3 ensuite bath or shower rooms and one family bathroom
· All upstairs bedrooms are carpeted, the ground floor bedroom has a solid oak floor with rug
· Non feather duvets and pillows are provided in each room
· Extra blankets and pillows are available
· There is a hanging space or wardrobe, chests of drawers and mirrors in every bedroom
· White bed linen and towels are provided free of charge
Ground Floor Bedroom and Ensuite Wet room
· Twin – door width 77cm. There is a slope down into this bedroom and it has a solid oak floor. There are two single beds; height from floor to top of mattress 60cm. Largest transfer space to the side of bed is 74cm. There is a door to the outside (width 75cm). There is an ensuite wet room with grab rails, shower, toilet and basin height 82cm (door width 74 cm). Fully tiled walls and floor.
First Floor Bedrooms and Bathrooms
· Western End Double – door width 71cm. Carpeted floor. One double bed; height from floor to top of mattress is 60cm. Largest transfer space to side of bed is 1m
· There is an ensuite bathroom with corner bath (height 57cm), toilet and basin (height 83cm) – door width 75cm. Tiled floor.
· A door off hallway leads to a Middle Double Bedroom – door width 72cm. Carpeted floor. There is one double bed; the height to the top of mattress is 60cm. The largest transfer space to the side of a bed is 1.3m.
· This bedroom has a ensuite shower room with shower (shower tray height c 24cm), toilet and basin (height 83cm) and door width 58cm. Tiled floor
· Small Twin (door width 71cm). Carpeted floor. There are two single beds at right angles to each other. One has a height of 55cm, the other is accessed by two steps up with a height of 80cm
· This bedroom has an ensuite shower room with a shower tray of c 18cm high and toilet and basin 83cm, door width 74cm. Tiled floor
· Middle Twin. There are two single beds 60cm high. Carpeted floor
· Eastern End Twin. There are two single beds 60cm high. Carpeted Floor.
· These two bedrooms share a bathroom with bath (59cm high), toilet and basin (79cm high), with marble tiled floor. Door width 71cm
Bathrooms
· There is 1 bathroom on the ground floor and 4 bath/shower rooms on the first floor
· Further descriptions of the bathrooms can be found in the bedroom section above
Kitchen
· The kitchen has two entrance doors from the dining room (74cm wide) and outside (93cm wide). There are two steps up to the outside (12cm and 13cm respectively) to a stone path.
· The floor is quarry tiles. There is a good colour contrast between walls, floors, and other surfaces
· The fitted units have black granite work surfaces (worktop height is 89cm)
· There is plenty of china, cutlery and glassware for all guests
· A fridge and freezer is provided which can be used to store medication (highest shelf in fridge is 1m24cm and the lowest shelf in freezer is 45cm)
· The kitchen contains a washer/dryer, an oven and hob, and a microwave and 4 slot Dualitt toaster. There is an electric kettle.
Shop
· There is no shop available on site
· The nearest shopping centre is Leek, with four supermarkets, Boots, WH Smith and most other requirements catered for.
· There is a limited mobility scheme – see Pre Arrival section
Outdoor Facilities
· There is a large gravel patio outside which can be accessed without using steps
· There is an acre of field
· BBQ, seating and tables are available
Additional Information
· The house has fire alarms throughout
· There emergency lights on all exit routes and stairwells
· There are fire extinguishers on all landing and in kitchens
· There is strictly a no smoking, no fireworks and no candle policy. You may smoke in the garden. Three are sand pots provided for used cigarette ends
· There are comprehensive information folders provided in the property
· Mobile phone reception is ok
· Please note that the layout may be subject to change and dimensions are approximate



On Site (or via 3rd Party Suppliers that can come to the venue):
Spa
Wine Tasting
Cocktail Making
Beer Making
Archery
Walking
Murder Mystery
Catering
Barbecue
Hot Tub Hire
Gin & Whisky Tasting
Laser clay shooting
Off Site:
Wine Tasting
4 x 4 Driving
Go-Karting
Quad Biking
Archery
Clay Pigeon Shooting
Fishing - Fly
Golf Courses
Horse Riding
Murder Mystery
Cocktail Making
Spa
Abseiling
Assault Course
Ballooning
Caving
Climbing Wall
Gliding
Mountain Biking
Paint Balling
Parachuting
Rock Climbing
Beer Making
Walking
Boating
Canoeing
Swimming
Toft Barn for 12 guests
Near Macclesfield, Staffordshire,
Closest Train Station :

Stoke on Trent 13 miles (West Coast Mainline to London Euston c 1hour and 35 minutes)
Macclesfield 12 miles (West Coast Mainline to Manchester c 45 minutes)
Closest Airport :

Manchester airport 24 miles
East Midlands Airport 52 miles
Birmingham Airport 70 miles
Nearby Town :
Nearby Shop :

Leek 5 miles has many independent interesting shops and the following supermarkets; Waitress, Sainsburys, Morrissons, Aldi
Nearby Eatery :

Leek 5 miles has a variety of restaurants. Lots of lovely pubs in nearby villages c2miles e.g. The Lazy Trout at Meerbrook, The Ship Inn at Wincle and The Royal Oak at Rushton Spencer
Pricing Notes
Booking fee: £45 (non-refundable)
Booking process: 25% booking deposit & 75% balance taken 10 weeks before the arrival date
Security deposit: £300 (taken in a form of a pre-authorisation)
Check-in and check-out times: 4pm - 10am
Extras:
Pets: £30 per pet
Day guest: £15 per person
Hot Tub hire: £40 (covers the costs of water and electricity; to hire a hot tub we recommend midlandhottubhire.co.uk)
Early check-in or late check-out: £100
History
Toft Barn sits within the courtyard of Toft Hall, just below the main Hall. The barn was built a long old time ago (maybe around 1700??? – no one is exactly sure!). It is quite a rare and special barn. If you look around the rear of the barn you will see that quite small stones were used to build it – a sign of its age (and also the lovely wonky way it has settled!).
By 1741 the High Sheriff of Staffordshire (the King's representative in the County), William Armett, was living in Toft Hall. According to A History of the County of Stafford volume 7 "he improved the house and laid out a walled garden. Known at Toft Hall by 1775, the house was remodelled and extended to the south in the mid 19th century". So it may have been him who built Toft Barn? Actually we believe the southern extension was there earlier than this! We found a coin dated 1794 hidden behind the plaster – very likely placed here by the builders as a good luck charm.
Toft Barn was a home for the farm animals until the 1970s. It was in quite a bad state of repair with no roof and dangerously rotten beams by the 1990s.
In 2005 Party Houses received planning permission to be turn Chels Barn into the lovely house that is here today (as a listed building it was a great way of saving the heritage of this barn). The specialist heritage architect made sure that the existing window and door openings were carefully preserved. Much of the existing stone and roofing material was re used. One of the biggest challenges was finding the huge oak beam that had to be replaced (you can see it in the bedroom and hallway at the end of the barn closet to Toft Hall). The builder at the time said finding it was rarer than finding a hens tooth. Sadly, we are not sure of its original use! All of the other beams are original.
We hope that you enjoy staying here and adding to its long history!
Merrymeet for 16 guests

Waterhouses
Midlands and the Peak District

Sleeps: 15 - 16

Bedrooms: 7

Dining: 16

Forest Lodge for 16 guests

Grantham
Midlands and the Peak District

Sleeps: 16

Bedrooms: 8

Dining: 16

Chels Barn for 12 guests

Near Macclesfield
Midlands and the Peak District

Sleeps: 12

Bedrooms: 6

Dining: 24

Canary Yacht for 10 guests

London
South East

Sleeps: 10

Bedrooms: 5

Dining: 10