Pennines Country House for 22 - 30 guests
Hen Party Friendly

Stag Party Friendly

Pet Friendly

Accessible Friendly

*

Hot Tub

Games Room
Pricing & Booking
Pennines Country House - West Yorkshire
Sleeps 22 - 30 guests
The price is based on 22 guests with additional guests at £160 per person.
*Well-behaved smaller groups of older stags will be accepted.
Welcome to an unforgettable party house near Manchester, the Pennines Country House. This brand new venue for rent sleeps up to 30 guests and comes with 9 en-suite bedrooms, an option for camping, and has everything you could want or need from a Party House!
Key features:
Hot Tubs
Indoor sports pitch / dance hall
Disco room with a long bar area
Camping area for extra guests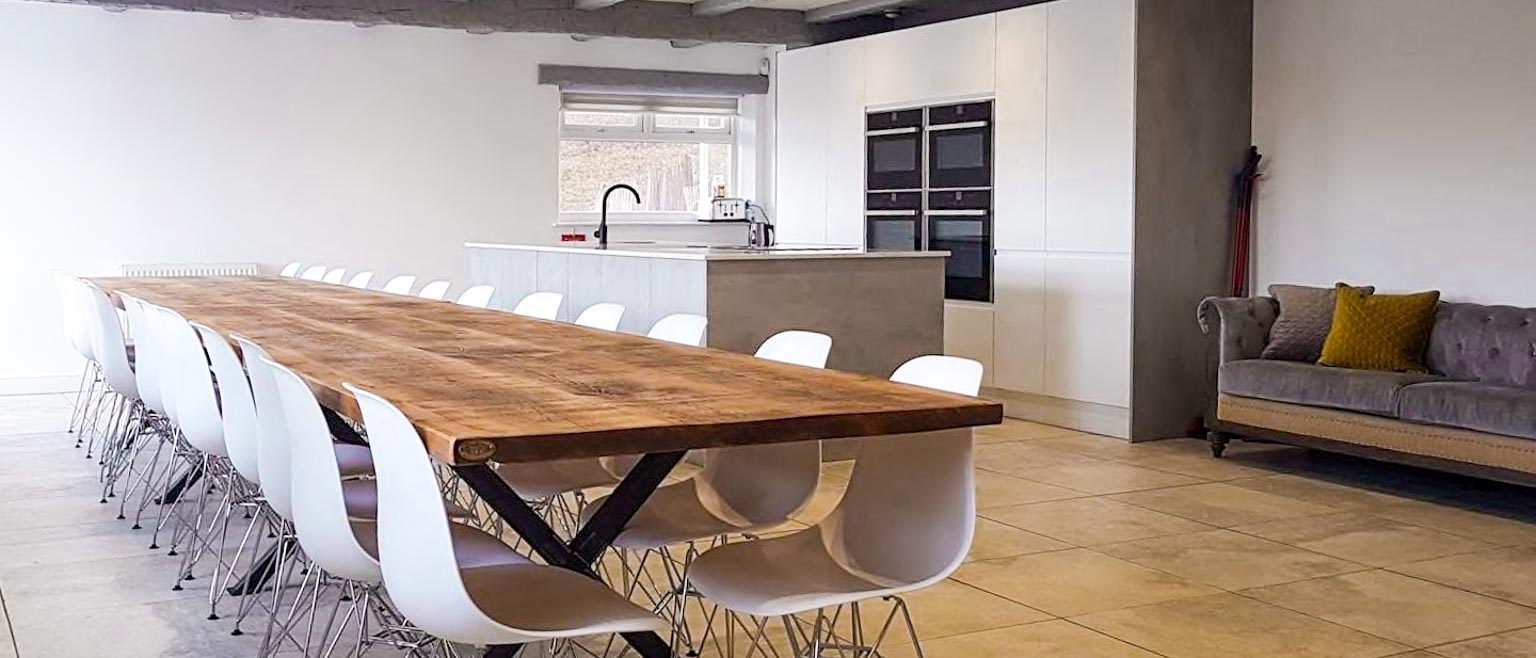 Reception Rooms, Kitchen, and Dining
Pennines Country House has a number of rooms which can be used for reception. The entrance features a beautiful conservatory with a view and a foosball table. The main reception room features a sofa, LED lights, exposed wooden beams, and a pool table. This oversized lounge leads to a fantastic disco room with a long bar and karaoke, perfect for any celebration!
The bright open plan kitchen and dining room comes with a big kitchen island with a stove, 2 microwaves and 2 ovens. This kitchen really is perfect for creating your favourite dishes or welcoming a caterer on-site. Pots and pans, dishes, glasses, and cutlery are provided.
There's also a washing machine at the property which you can use if you let us know beforehand.
Bedrooms
Bedroom 1: double bed and a sofa bed (3)
Bedroom 2: 3 single beds (3)
Bedroom 3: 2 single beds (2)
Bedroom 4: double bed and a sofa beds (3)
Bedroom 5: 3 bunk beds (7)
Bedroom 6: 3 single beds (3)
Bedroom 7: 3 single beds (3)
Bedroom 8: 3 single beds (3)
Bedroom 9: double bed and a single bed (3)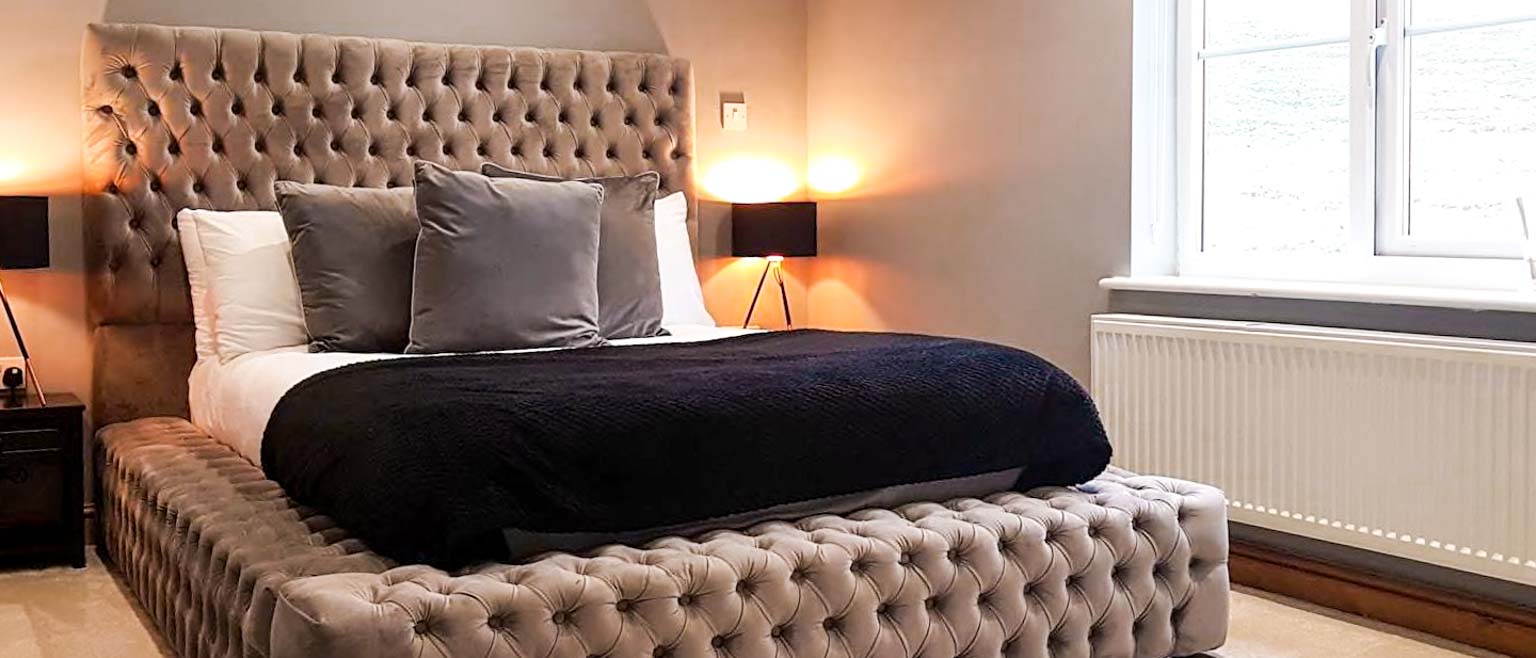 Leisure and Entertainment Facilities
This party house near Manchester has unforgettable party, leisure and entertainment facilities, making it a fantastic choice for team buildings, yoga, and other sports retreats. Your guests will love the hot tub, enabling them to enjoy complete relaxation. A big addition to the house is its indoor sport pitch with basketball, football, and tennis facilities perfect for a sports tournament (opens in March 2020).
The indoor sports pitch can also serve as a dance hall for wedding receptions and other big celebrations. The venue owners can help to organise tables, chairs, and decorations to convert this space into an elegant dining hall or dance space.
This property also allows camping on-site with plenty of space for tents, yurts, and caravans. These can be provided or you can bring your own. Please note that additional guests are an extra cost (£15 per person per night). This space is often in use by hikers and cyclists exploring the local area.
Finally, this large group accommodation in the Peak District also features a large disco room with a bar perfect for dancing the night away with your friends or colleagues. You can stock up the bar with your favourite beverages and switch turns serving or hire a bartender for the night.
Formal Advisory
There is active CCTV around the exterior of the property and in the car park.
Corporates
If you're looking for a corporate retreat venue for your next team building, you'll love this house. Consisting of 24 beds, your colleagues can be accommodated comfortably in 9 en-suite bedrooms. The large reception areas and dining room serve as perfect private meeting rooms. Afterward, you can choose from a range of fun activities! Take advantage of the sports complex or head outside for some laser clay shooting or a treasure chest hunt! This team building venue is close to the Peak District and the Pennines, perfect for the nature enthusiasts in your group. You can even opt-in for a treasure hunt and explore the areas with a pinch of excitement.
Accessibility*
Contact us for more information.
On Site (or via 3rd Party Suppliers that can come to the venue):
Spa
Wine Tasting
Murder Mystery
Gym
Tennis Court
Catering
Hot Tub
Snooker table
Bar
Table football
Spa treatment
Casino Night
Gin & Whisky Tasting
Yoga/Dance Studio
Cocktail Making
Beer Making
Off Site:
Assault Course
Mountain Biking
Rock Climbing
Walking
Hiking
Cycling
Beer tasting
Activity Centre
Pilates
Shopping
Local Area
Pennines Country House is perfect for walking / hiking holidays and for those that love to stay active. Conveniently located next to Pennine Hills and at the edge of Peak District, there are numerous walk ways which you can take straight from the doorstep.
Pennines Country House for 22 - 30 guests
Marsden, West Yorkshire, UK
Closest Train Station :

Manchester Piccadilly - 16 miles
Closest Airport :

Manchester Airport - 25 miles
Nearby Town :
Pricing Notes
The price is based on 22 guests while extra guests over 22 are at £160 per person per night.
Booking fee: £65 per booking (non-refundable)
Cleaning fee: £250 which is added to each booking
Booking process: 25% booking deposit & 75% balance taken 10 weeks before the arrival date
Security deposit: £2,000 is not included in the price and will be taken by the owner directly. Please note that the security deposit is liable to increase to £4,000 for larger groups. 
Check-in & check-out time: 4pm - 10am
Booking Extras
Added guest (over 22): £160 per person
Dog (not allowed in bedrooms): £40 each
9th September now only £3, 000, down from £4, 200! 7th October now only £3, 300 down from £4, 000!

Roaches Hall for 30 guests

Near Leek
Midlands and the Peak District

Sleeps: 30

Bedrooms: 13

Dining: 34

Greenlane House for 24 - 25 guests

Henley-in-Arden
Midlands and the Peak District

Sleeps: 24 - 25

Bedrooms: 10

Dining: 25

Bradshaw Hall for 22 - 30 guests

West Yorkshire
North

Sleeps: 22 - 30

Bedrooms: 9

Dining: 30