Lakeside Hall for 21 guests
Hen Party Friendly

Stag Party Friendly

Pet Friendly

Accessible Friendly

*

Hot Tub

*

Cinema Room

Games Room
Pricing & Booking
Lakeside Hall - Cumbria
Sleeps 21 guests
If you're looking for a captivating base from where you can explore the stunning Lake District, Hadrians Wall, and Southern Scotland, Lakeside Hall is a brilliant choice. This lovely Lake District accommodation takes you back in time, a reminder of a bygone era, where dressing up for dinners and victorian bath-tubs were the ideal. It is a generously proportioned Edwardian mansion and is perfect for anything from a family get-together, wedding reception, or even a birthday! The owner is more than happy to create a bespoke environment for you in terms of catering and activities. If you're planning a hen party in Carlisle, Lakeside Hall is a splendid option for that as well.
The grounds of this house to rent in Cumbria feature a stable, fruit bushes and overgrown orchards. It is surrounded by dramatic cliffs and gives you breathtaking views of the Solway plain. Visit the nearby river Lyne which is perfect for a swim in the warmer months. If you're visiting in the colder months, you can even ice skate on the shallow puddles next to the Hall.
Since it's a family home, the interiors are pleasantly homey. If you're travelling with children, they will love their encounters with hares and deer in the private gardens beside the many facilities that this house has to offer. Finished in 1915, Lakeside Hall also features oak and metalwork with a smattering of stained glass. Art fanatics will love the portraits and abstracts spread across the house. Furthermore, the owners of the house are considerate of the environment and you will find LED lights all throughout, electricity monitors, some recycled paper products, and vegan soaps and shampoos available for your use.
Key Features:
Games room and cinema projector

Trampoline

Camp beds and tents

BBQ with fire-pit

Netflix, Bang & Olufsen sound system
Reception Rooms, Dining & Kitchen
The reception rooms in this Lake District accommodation are cosy and have lots of daylight. The open fireplace will make sure you and your guests are warm during the winter months, and the sofas are perfect to sink into after a long day of exploring the outstanding Cumbria countryside.
There is a ground floor cloakroom that comes with a spectacular thunderbox toilet with double sinks. Additionally, this house to rent in Cumbria also offers central heating, electric radiators, and hot water bottles to further your comfort.
If you opt to take care of your meals by yourself, the home cooks will be more than delighted to use the fully-equipped kitchen. The 2 Larder fridges, induction hob, blender, and more will provide you with the perfect area to prepare a gourmet meal in. If you're having a stag or hen party in Carlisle, opt for a caterer so that you can sit back, relax, and have a good time with your loved ones. Once your favourite dishes are ready, enjoy it in the large dining area for 24 guests. This grand room features a family portrait painted by John Walton in 1957 as well as a William Morris wallpaper meeting wisteria creeping in at the windows. There is an open fire, as well as a piano.
Bedrooms
The 9 comfy bedrooms will ensure you have a good night's sleep. The lucky occupants of the master bedroom will enjoy views of the wide-open landscapes of the North Pennines and the Lake District on all sides. 21 people can be comfortably accommodated in the beds, while special arrangements will have to be made for 2 extra guests, as this Lake District accommodation can sleep up to 23 guests. Lakeside Hall also features a sofa bed and provides you with the option of camp beds and tents.
Bedroom 1: Queen bed (2)

Bedroom 2: Single bed (1)

Bedroom 3: King bed and bunk bed (4)

Bedroom 4: Double bed and single bed (3)

Bedroom 5: Queen bed (2)

Bedroom 6: King bed and single bed (3)

Bedroom 7: King bed (2)

Bedroom 8: Two single beds (2)

Bedroom 9: Double bed (2)

Extra beds: Double sofa bed, three floor mattresses (5)
This Cumbria house to rent comes features 3.5 bathrooms, one of which is en-suite, equipped with soap, shampoo, and fluffy towels for 23 guests.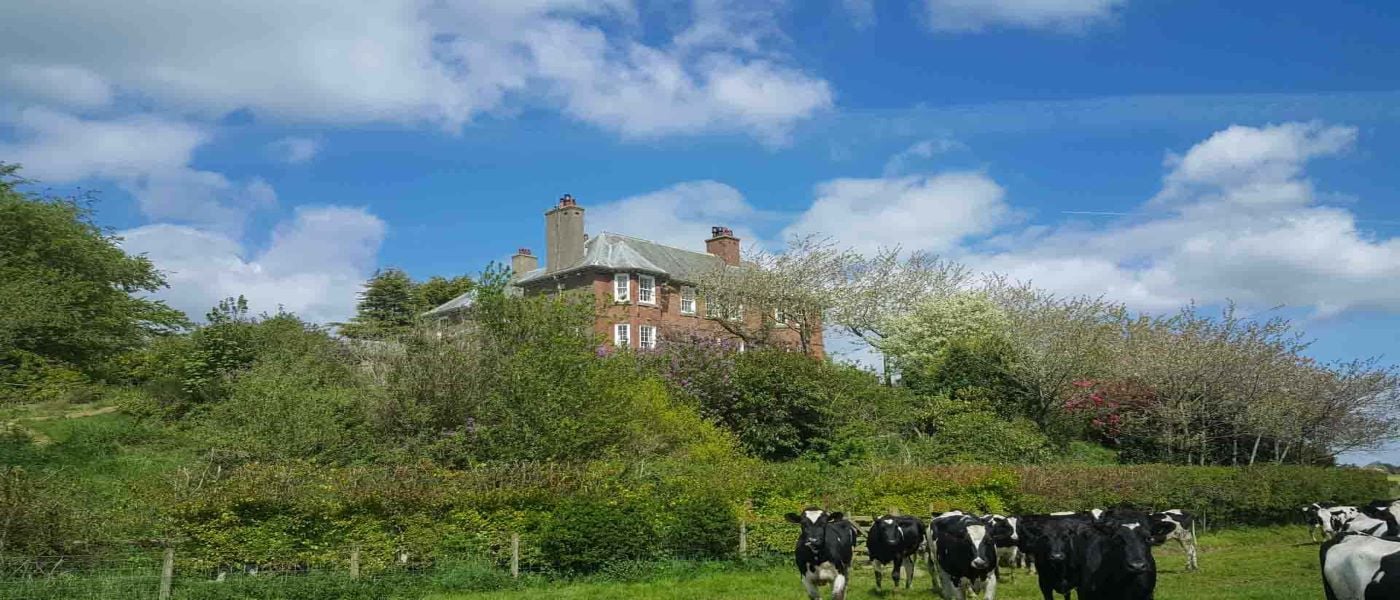 Entertainment
Lakeside Hall comes with entertainment for all guests. If you decide to have your celebration or holiday at this fantastic home away from home, you will be assured of beautiful memories thanks to the abundance of facilities. You will be delighted to find professional glass-topped table football, board games, and cards in the downstairs cloakroom and darts outside. If you fancy a film night, the overhead projector will give you a true cinema feel. Furthermore, you will also find multiple music devices, Netflix, and Bluetooth connectivity. If you feel like dancing the night away, roll away the rugs and turn on your favourite tunes on the Bang & Olufsen sound system! The garage is also very spacious and comes with a table tennis table!
A hot tub can be arranged on-site at an additional cost and is definitely worth it. There is also a fun area adjacent to the driveway with trampoline, zip wire and often a slack wire - a haven for the young ones. What's more? There are also plenty of children's books and toys.
All year-round, the BBQ area with fire pit will make the perfect environment for an alfresco party on the terrace. Even though there is no pool, feel free to take a dip in the river which is 400m away with otters and kingfishers during the warmer summer months. Wetsuits are provided by the house.
Accessibility*
This house to rent in Cumbria comes with 2 ground floor bedrooms with wide access doors but only a toilet and washbasin on this level. Check out our other accessible friendly venues.
On Site (or via 3rd Party Suppliers that can come to the venue):
Wine Tasting
Cocktail Making
Beer Making
Archery
Walking
Murder Mystery
Catering
Barbecue
Table football
Hot Tub Hire
Fire Pit
Spa Treatment
Gin & Whisky Tasting
Laser clay shooting
WiFi
Off Site:
Rock Climbing
Walking
Hiking
Cycling
Theatre
Zip Line
Shopping
Canoeing
Swimming
Local Area
Lakeside Hall offers plenty to do in the surrounding area. Visit the river Lyne which is a stone's throw away and have a swim during the warmer summer months. Wet suits can be provided, but are not necessary. Walk past the deeply sunken steps and try to spot an eel or trout.
Hadrians Wall, a world UNESCO site is only 10 minutes from this Lake District accommodation and is a fantastic place for the walkers. With brilliant walking trails with remains of Roman artefacts and frontiers, the picturesque surroundings make this a perfect day out. You will also be just a very short drive from the Lake District National Park and also the North Pennines Area, an area of outstanding natural beauty. If you want to spur the adrenaline in you, you can opt to go rock climbing nearby.
The ancient settlement of Carlisle is only 8 miles away with Roman discoveries still emerging. The cathedral here is worth a visit with its enchanting ceilings showing off the heavens in the midnight blue silk studded with gold stars. Find enigmatic stone circles in the nearby countryside including Castlerigg, that dates back to 3000 BC, and boasts views of Helvellyn in the background. For the rail enthusiasts, the remains of the Waverley Line route can be explored unofficially just up the road at Kirkandrews-on-Esk, where a long and scary yet beautiful suspension bridge is incidentally located.
If you feel like visiting the coast, the Solway Coast is only 19 miles away and offers cycling and walking routes as well as local food and drink. Lakeside Hall offers beach towels, umbrellas, beach blankets and snorkelling gear.
Restaurants & Pubs
Spice Fusion - 1.9 miles
Skitby - 3.2 miles
Hidden River Cafe - 4.6 miles
Metal Bridge Inn - 5.8 miles
Lounge on the Green - 6.2 miles
Gosling Bridge Inn - 6.2 miles
Assembly Restaurant - 8.9 miles
Shops
Asda - 5.6 mile
Sainsbury's - 8 miles
Tesco Superstore - 9.7 miles
Lakeside Hall for 21 guests
Carlisle, Cumbria, UK
Closest Train Station :

Gretna Green Station - 6.4 miles
Carlisle Station - 8 miles
Closest Airport :

Newcastle International Airport (NCL) - 55 miles
Nearby Town :
Pricing Notes
Please note that pricing is based on 21 guests, with additional guests (up to 26) being £75 for a 2-night stay or £110 for a 3-night stay. 
There is no security deposit, however, the owner requires photo ID from the lead guest.
Booking fee: £65 per booking (non-refundable) 
Booking process: 25% booking deposit & 75% balance taken 10 weeks before the arrival date.
Check-in & check-out: 4-10pm - 11am
Booking Extras:
Extra guest (2 nights): £75
Extra guest (3 nights): £110
9th September now only £3, 000, down from £4, 200! 7th October now only £3, 300 down from £4, 000!

Roaches Hall for 30 guests

Near Leek
Midlands and the Peak District

Sleeps: 30

Bedrooms: 13

Dining: 34

Toft Hall for 20 guests

Near Macclesfield
Midlands and the Peak District

Sleeps: 20

Bedrooms: 10

Dining: 20

Pennines Country House for 22 - 30 guests

Marsden
North

Sleeps: 22 - 30

Bedrooms: 9

Dining: 24

Bradshaw Hall for 22 - 30 guests

West Yorkshire
North

Sleeps: 22 - 30

Bedrooms: 9

Dining: 30

Hollow Meadows Hall for 20 guests

Hollow Meadows
Midlands and the Peak District

Sleeps: 20

Bedrooms: 10

Dining: 20

Upper Denton House for 15 guest

Gilsland
North

Sleeps: 15

Bedrooms: 7

Dining: 16