Hunter's Lodge for 18 - 22 guests
Hen Party Friendly

Stag Party Friendly

Pet Friendly

Accessible Friendly

Hot Tub

BBQ

Games Room
Pricing & Booking
Hunter's Lodge - Yorkshire
Sleeps 18 - 22 guests
The price for this property is based on 18 guests, while extra guests can be accommodated at an additional cost.
Hunter's Lodge (for 18) can be hired together with the extra shed (for 4), Gin Lodge (for 10), and Woodstone Lodge (for 22) together providing accommodation for 54 guests at the Grand Lodge Estate.
Hunter's Lodge is a pet-friendly Party House comprising of the main manor house sleeping 18 guests and the lodge located next to it. Additionally, there is also a shed (sleeps 4) that can be rented out if you have a slightly larger group.
This Party House in York will make your stay truly special thanks to the privacy it offers, freedom to celebrate your event just as you want while being just a 20-minute drive to York city centre. Hunter's Lodge can comfortably accommodate 18 guests and also works great if you're looking for a private party venue near Leeds as it features lots of facilities and amenities that will make your stay unique and memorable. Enjoy board games, darts, hot tub, barbecue and more. Make sure you try an apple from the orchard - they are fresh and delicious!
Key Features:
Private Hot Tub

A separate games property

Various activity packages available

Located close to York city centre, great for a night out
Kitchen and reception room
The chefs in the group will love the fully-equipped kitchen and will be able to prepare their signature dishes without hindrance. Delicious meals can be devoured on the large dining table for 20 guests.
The reception room of this private party venue near Leeds will provide a terrific space for you and your guests. Sit back and relax in the cosy lounge area with a wood-burner, making sure you're warm during those chilly winter days. Snuggle up with your family and enjoy some hot chocolate, darts, board games or a movie night.
Bedrooms
This private party venue near Leeds comes with 5 comfortable bedrooms:
Bedrooms 1 - 4: 2 x single beds, 1 x sofa bed

Bedroom 5: 1 x sofa beds
Moreover, there are 2 sofa beds in the common spaces for extra guests. The additional shed that can be rented out can sleep 4 extra guests. There are 3 bathrooms.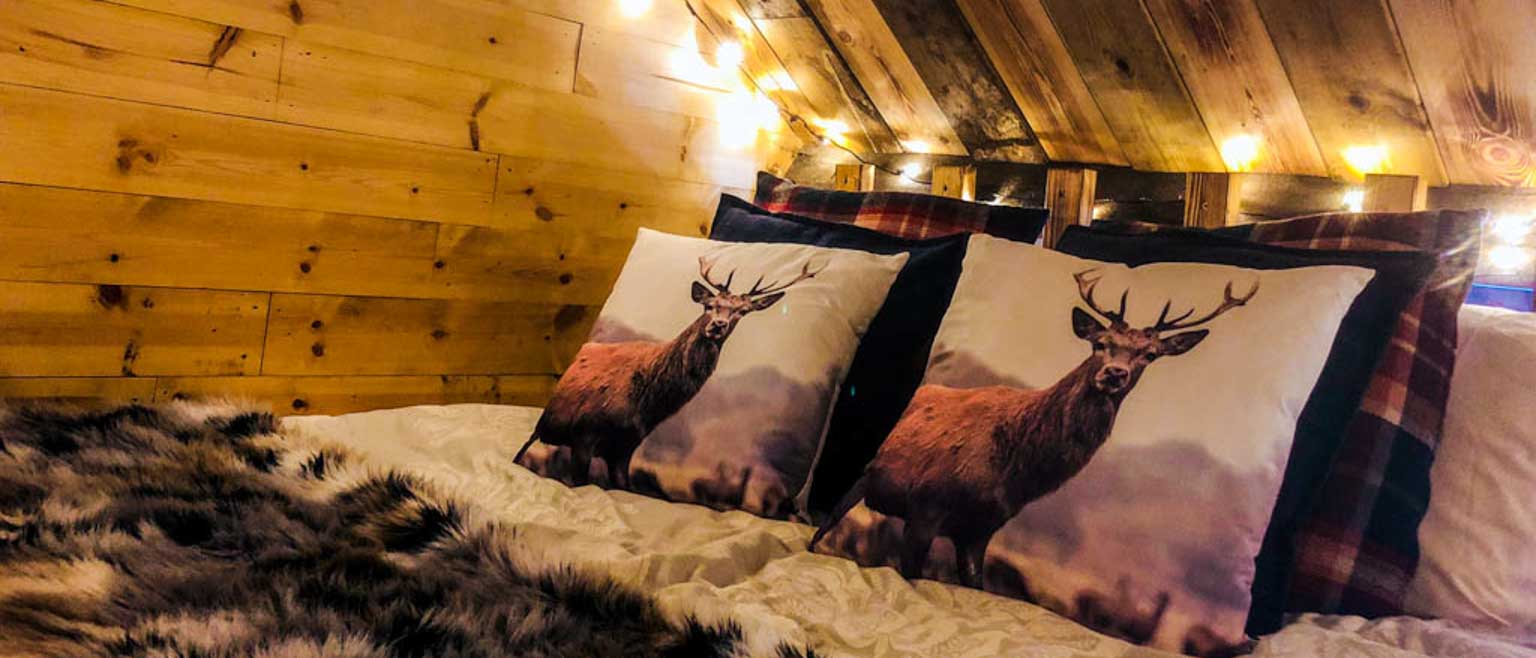 Outdoors and leisure
You will also be happy to know that his Party House in York comes with a BBQ area for all guests to use. You are welcome to prepare some delicious steaks using the BBQ equipment and take full advantage of the outdoor seating on a warm sunny day so you can have an al fresco party with your loved ones. This stag and hen party venue North Yorkshire also comes with an outdoor hot tub with garden views perfect for stargazing.
Hen, Stag and Birthday Parties at Hunters Lodge
The best part about this York Party House is that it bends both ways - you can have a crazy party dancing the night away, or relax in midst of the seclusion and greenery, and recharge your batteries. Hunter's Lodge works brilliantly as a hen or stag do venue North Yorkshire or for fun birthday parties. You'll love bringing together your friends to enjoy some wine or local beer, play darts, use the large screen TV and hot tub or just to have a fun night in. On the second night, get a taxi, head to York city centre, go to the pub or head to the club to dance the night away (make sure to check out Kuda, Fibbers, Mansion, and of course the classic Popworld). Additionally, this stag and hen party venue in North Yorkshire comes with a lodge bar which gives off a unique vibe where you can prepare some tasty (and strong!) cocktails.
Another highlight about this stag and hen party venue in North Yorkshire is the option of having the entire event planned for you. This will ensure that you and your group are always entertained. There are a number of packages available; you can opt for things like welcome drinks on arrival, takeaway nights, continental breakfasts, afternoon teas, footgolf, farmers board lunch with beer or wine, cocktail making, BBQ dinners, and drinking games. Bespoke packages are also available; you have the freedom to customise your stay, catering to all of your tastes. Make sure to ask us about packages and we'll gladly send over more information!
On Site (or via 3rd Party Suppliers that can come to the venue):
Wine Tasting
Cocktail Making
Walking
Catering
Barbecue
Hot Tub
Bar
Gin & Whisky Tasting
Boules Court
Off Site:
Spa
Walking
Massage
Hiking
Cycling
Theatre
Shopping
Local Area
York is a beautiful city and has plenty of things to do very close to Hunter's Lodge. For the history lovers, York Minster is a marvellous English cathedral that features 14th century stained glass, tombs, and fascinating stonework. Since it is only 25 minutes away by car, it's definitely worth a visit! The York Castle Museum is only 20 minutes away and is known for its collections of textiles, costumes, military and social history. Definitely check out the prison cells and find out what it was like during the First World War. The National Railway Museum is only a 20-minute drive away while The Yorkshire Air Museum is only 11 minutes drive.
The York Maze is a fun and entertaining day activity for the entire group; it is basically a giant maze made up of corn. This is a great way to keep the kids occupied as it has over 20 rides and attractions! This is located only 15 minutes away, and when not open to the public, it serves as the perfect rustic wedding venue with a stunning backdrop.
For the beer lovers, you'll find two excellent breweries just a short drive away - York Brewery (9.5 miles) and Brew York (8.7 miles).
Shops
Tesco - 9 miles
Sainsbury - 10 miles
Marks & Spencer - 10 miles
Pubs & Restaurants
Pear Tree Farm, Dining & Carvery - 15-minutes (8 miles)
The Three Cups - 5 minutes (2 miles)
Riverside Farm - 20 minutes (11 miles)
Hunter's Lodge for 18 - 22 guests
York, North Yorkshire, England
Closest Train Station :
York Station - 9.7 miles
Closest Airport :
Leeds Bradford Airport - 24 miles
Pricing Notes
An extra lodge is available for 2 - 4 extra people, if this is something you require, please let us know.
Booking process: 25% deposit & 75% balance taken before your arrival date
Security deposit: £500 (not included in the price & taken by the owner) 
Check-in & check-out time: 4pm - 10am
Toft Hall for 20 guests

Near Macclesfield
Midlands and the Peak District

Sleeps: 20

Bedrooms: 10

Dining: 20

10% discount on all bookings until the 18th December! October Half term, 4 nights for £3,060, WOW!

Barley House for 14 - 18 guests

Driffield
North

Sleeps: 14 - 18

Bedrooms: 5

Dining: 14

Silvercoast Mansion for 21 guests

Skegness
Midlands and the Peak District

Sleeps: 21

Bedrooms: 11

Dining: 22

Hollow Meadows Hall for 20 guests

Hollow Meadows
Midlands and the Peak District

Sleeps: 20

Bedrooms: 10

Dining: 20

Hidden Manor for 18 - 22 guests

County Durham
North

Sleeps: 18 - 22

Bedrooms: 6

Dining: 16