Hamps Hall for 20 guests
Midlands and the Peak District
Waterhouses
Hen Party Friendly

Stag Party Friendly

Pet Friendly

Accessible Friendly

Hot Tub

*

Games Room

Fireplace
Pricing & Booking
Hamps Hall - Peak District
Sleeps 20
Special Offer: We are running 3 nights for the price of 2 for all weekends (Sunday night free)!
Hamps Hall is designed to provide a wonderful location for families and groups to escape for a relaxing break. Hamps Hall has the feel of a wonderful cottage. There are some low ceilings (they all are over 6 feet, but choose another Party House if you are very tall!) and exposed beams. All fixtures and fittings are of the highest standard.
It is situated in the southern Peak District, not far from the Manifold Valley, Dovedale, Alton Towers, Ashbourne and Buxton. It is on a very quiet single track lane with fields all around, yet it is only a short walk to a great village pub.
Due to the historic characteristics of Hamps Hall, you will find that the ceilings can be low on the first floor and some on the ground floor, although more than suitable for the majority of people we have found that very tall people (6 foot 4 and above), do have to duck a little when passing through doorways.
In summary, the holiday accommodation provides:
Nine bedrooms (4 doubles, 4 twins, 1 quad)
Five bathrooms/shower rooms
Cosy living room
Mini Library room with a fireplace
Xbox snug (for kids both old and young!)
Large dining room for 20 guests
Modern granite fitted kitchen
Bed linen (except for cot linen as we find parents prefer bringing their own), towels, central heating, electricity and logs all included in the price
Free parking
Games room with table tennis and table football
Private gardens
Great country pub under 10 minutes walk away
Hot tub! Hire one out from a third party supplier (see more details below)
Living Rooms
Hamps Hall has a delightful living room with beams to relax and enjoy a lovely get-together! The living room has a flat-screen TV and DVD player. There is a second snug with an Xbox for the kids to play away from the main party (or watch a film), and finally a small sitting room with a wood-burning stove (free logs provided) and music system (just bring your own aux lead and music player).
Dining Room and Kitchen
Everyone loves a good meal together – that's why we have made sure that we can fit all your guests in our dining room around a single table, the perfect place to catch up! There are French doors leading onto the garden, so in summer months you have easy access to a lovely BBQ and outdoor seating with fabulous views up the hill towards the Manifold Valley.
To cook that perfect meal, Hamps Hall has a fantastic large kitchen, with granite surfaces, two ovens, 8 hobs, a Dualit toaster and a large fridge/ freezer, as well as all the utensils you could possibly need!
Fancy a night off? Well, bring in a Chef! Very popular with our guests, he cooks a 4-course meal, as well as waitresses serving, and washing up. All you have to do is sit back and relax; you can even bring your own drink, so you don't have to pay restaurant prices!
Bedrooms and bathrooms
All bedrooms at Hamps Hall are delightfully furnished with fully fitted carpets and radiators. The beds are all high quality with handmade 1250 spring mattresses and supplied with crisp white linens and two towels for each guest. Each room has dressing tables/chests of drawers, mirrors and wardrobes.
There are 9 bedrooms at Hamps Hall, made up of 4 doubles, 4 twins, and 1 triple. There are also 5 bath/shower rooms.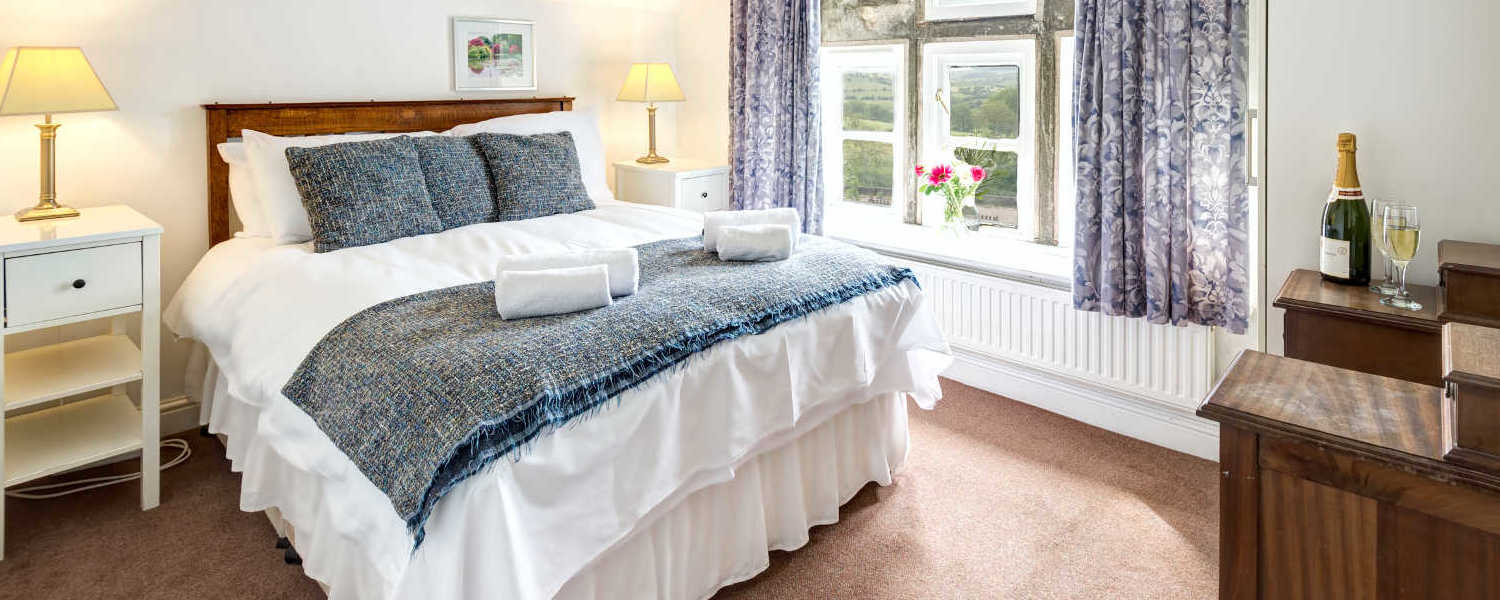 Garden and Games Room
There are gardens leading from the French doors in the Dining Room with a patio and plenty of tables and chairs. A barbeque is provided, perfect for those summer months (please bring the coals for it with you)! There is a private garden to enjoy and walks from Hamps Hall over the hill directly to the Manifold Valley and on to Dovedale for the more energetic.
Hamps Hall also has a games room, with a table tennis table, and table football, great to challenge your fellow guests, or for the children to burn off some excess energy!
Wifi
There is complimentary WiFi at Hamps Hall.
Hot Tub
Hamps Hall doesn't have a hot tub but it is possible to rent one out from a recommended supplier. Please note we do charge an extra £40 for any hot tub usage on site.
Activities at Hamps Hall
You'll find something for everyone in the stunning Peak District, no matter their age or gender! From stunning local walks to getting the heart pumping with paintballing, visit our 'Experiences' section for more information!
Certificate of Excellence
For the fourth year running, we have won the Trip Advisor Certificate of Excellence. We own and run Hamps Hall so you can rest assured that our high standards are met. You can find all of these on our Trip Advisor page – we like to be transparent about feedback. Click on the reviews section to read more.
Introduction
Hamps Hall is a lovely house over 200 years old and has some low doorways. Ceilings are also fairly low in some rooms and doors can be narrow. Rooms are of typical cottage proportions and not suitable for wheelchairs. There is no ground floor toilet. Whilst we aim to welcome all guests there are some period features that might make access difficult for people with limited mobility. Other Party Houses (including Hamps Barn) have specially designed features which are suitable for the less mobile.
Pre Arrival
We can offer the use of a Deaf Guard system for guests who are hard of hearing and unlikely to hear the fire alarm system. This is placed under your pillow at might and will vibrate and lights flash should the fire alarms go off. Please let us know before arrival if you wish to borrow the Deaf Guard.
Hire of additional mobility equipment can be arranged through Moorland Mobility (who will also deliver and collect). Please call Malcolm on 01538 381515 (closed Sundays) or visit moorlandmobility.co.uk. Alternatively the local Red Cross also have some equipment for loan free of charge.
In Leek there are accessible toilets (on RADAR key schemes) in Silk Street, Leek Bus Station and in the council offices at Moorlands House off Stockwell Street
There is a Shop Mobility Scheme at The Potteries Shopping Centre in Hanley, Stoke on Trent and also in Macclesfield
The nearest shops are in Leek (c 7 miles) or Ashbourne (c7 miles) but Tesco.com and peakdistrictfinefoods.co.uk (local farmers market on wheels) will both deliver.
There is a local shop and post office in Waterhouses (c ½ mile) for basic provisions
The nearest train station is Stoke on Trent (London Euston c 1hour 35 minutes)
There are usually accessible taxis at the station.
Alternatively travel to Macclesfield Station and catch the bus from Macclesfield to Ashbourne which stops in Rushton Spencer (c 2 miles)
Arrival and Car Parking Facilities
There is plenty of free parking outside the Hall on the flat gravel driveway
The road to the property is narrow and can be bumpy
There is outside lighting as night which lights up on sensitivity of movement
The pathway to the main front door has two steps – both 23 cm high
Main Entrance and Reception
There is one main front entrances to Hamps Hall
The main entrance is reached via two steps up a short path (step heights are both 23cm)
The entrance hall floor is of slate tiles
There is a door to the rear garden with weatherboard lip of c 2cm, beyond this door is a stone patio.
Public Areas
There are no lifts
There are no public phones, but mobile reception is available on all networks (although sometimes you have to move around the property to optimise reception)
Lighting varies by room. Most rooms have central pendants. The kitchen is lit by spotlights.
The two staircases are both carpeted and have handrails. The main staircase is 79cm width with a 70cm doorway at the bottom of the stairs. The secondary staircase (to a double bedroom on the first floor only) is a straight rise and 80cm wide (with an ground floor access fire door of 80cm wide)
There is no ground floor toilet
Living Room
The living room has four doors into it – via the hallway lobby (width 83cm), the main stairway (door width 70cm) and living room (width 80cm) and Snug library room (width 83cm).
Teletext TV is provided with remote control as well as DVD player and Freeview
Dining Room
The floor is slate tiles. The dining table measures 14 foot and 6 inches x 3 foot wide. The height of the under space of the table is 72cm from the floor and the table is 75cm high.
There is limited space behind the table on two sides
Chairs (all moveable) there are 20 chairs with leather seats and no arms. The chairs are 46cm high
There are double doors (110cm wide) to the garden (with a storm lip of c1cm) onto a stone patioLiving Room
This is accessed via the living room (door 80cm wide) or snug (door 73cm wide)
Teletext TV is provided with remote control as well as DVD player and Freeview
Library Snug
This is accessed via the main living room (door 83cm wide) and kitchen (door width 71cm by 175cm high)
The Snug has a slate floor with rugs
There is a beam which crosses part of this room at 168cm high
It has a log burning fire, and logs are provided
Xbox Snug
The Second Sitting Room is accessed via the Living Room (door 74cm wide), with a door to the kitchen and to stairs rising to a double bedroom (70 cm wide).
It has a slate floor and has a sofa
Bedrooms
There are nine bedrooms at Hamps Hall
First Floor – 1 double (via its own staircase), 3 twin, 1 family (with four single beds)
Second Floor – 3 double, 1 twin
All bedrooms are carpeted
Non feather duvets and pillows are provided in each room
Extra blankets and pillows are available
There is a hanging space or wardrobe, chests of drawers and mirrors in every bedroom
White bed linen and towels are provided free of charge
First Floor
Double (via its own staircase) – door width 70cm. One double bed with a height from the floor to top of mattress of 60cm. Largest transfer space to the side of bed is 1m. This bedroom has a small ensuite shower room
Twin – door width 71cm. Two 90cm single beds, with a height from the floor to top of mattress of 60cm. Largest transfer space to the side of bed is 75cm.
End Twin – door width 75cm . The two 90cm single beds have a height from floor to top of mattress at 60cm . Largest transfer space to side of bed is 1m80cm. There is a small step down into this room
Family Room –the door leading into this room is from the main hallway –70cm width. There are four single beds, with a height to top of mattress of 60cm. The largest transfer space to the side of a bed is 1m10cm
Middle Twin – door width 70cm from main staircase landing. The doorway is lower than average height at 162cm. There are two 90cm single bed; height to top of mattress is 60cm. The largest transfer space to the side of a bed is 3m 40cm. This room has a beam running across it approximately 1.803 m high
Second Floor
The fire brigade suggest that anyone with a hearing or visual impairment doesn't sleep in higher bedrooms to ensure speed of escape if necessary. Some of the room in these bedrooms is under the eaves, but the beds are central and allow full standing next to them.
Twin – door width 70cm. Two 90cm single beds; height from floor to top of mattress 60cm. Largest transfer space to the side of bed is 75cm.
Red Double – door width 70cm. One double bed; height from floor to top of mattress is 60cm. Largest transfer space to the side of bed is 1m10cm. There is an ensuite bathroom off this bedroom
Double – door width 72cm. One double bed, height from the floor to the top of mattress is 60cm. The largest transfer space to the side of bed is 1m40cm.
Blue double – door width 70 cm. One double bed; the height to the top of mattress is 60cm. The largest transfer space to the side of a bed is 1m20cm
Bathrooms
There are three bathrooms on the first floor and two bathrooms on the second floor
The ensuite shower room to the double bedroom off its own staircase has a shower cubicle (73cm square), a toilet and small basin (height 80cm). The door width is 70cm
The black and white bathroom on the first floor is shared by some of the first floor bedrooms. It has two steps up into it (15cm and 18cm respectively) and a door width of 74cm. It has a bath with shower over it 59 cm high, a toilet 42cm to the seat and a basin 83cm high. There is good colour contrast between fittings and floor
The third first floor bathroom has a door width of 73cm, a bath with shower over it 56cm high, a toilet 42cm to the seat and a basin 80cm high. It has a feature stone wall with the original house tie and a blue tiled floor
There are two bathrooms on the second floor
The first bathroom is shared by the non ensuite bedrooms. This bathroom has a bath with shower over it (56cm high) with a basin 80cm high and toilet and tiled flooring. There is good colour contrast between walls, fittings and floor. Door width 72cm.
The ensuite bathroom off the red double bedroom has a basin (84cm high), toilet (42cm) and bath with shower over (57cm high). The floor is tiled and there is good colour contrast between fittings and floor.
Kitchen
The kitchen has two entrance doors from the library (72cm wide), and Xbox snug (71cm wide)
The floor is tiled. There is a good colour contrast between walls, cupboards and other surfaces
The fitted units have solid oak doors and granite work surfaces (worktop height is 92cm)
There is plenty of cutlery and glassware for all guests
A large American fridge/freezer is provided which can be used to store medication (highest shelf in fridge is 1m45cm and the lowest drawer is 40cm)
A second fridge is provided
The kitchen contains a washer/dryer, 2 ovens with two 4 ring electric hobs, and microwave
Shop
There is no shop available on site
There is both a local shop and post office in Waterhouses (c ½ mile)
The nearest shopping centre is Leek (c 7miles) or Ashbourne (c 7 miles), with four supermarkets, Boots, WH Smith and most other requirements catered for.
There is a limited mobility scheme – see Pre Arrival section
Leisure Facilities
There is a games room with table tennis, and table football tables. The entrance has a small step up (9cm) with a door width of 73cm
Outdoor Facilities
The garden has gravel paths and some steps to some sections. It slopes on a slight hill. There are double patio doors from the property into the garden, which do nor involve steps but they do have weather board strips of c 1 cm on the door base
There is a patio outside which can be accessed without using steps
The garden is mature, with flowers and lawn,
All guests are welcome to use the garden
Chairs and tables and BBQ are available
Additional Information
The house has fire alarms throughout
There emergency lighting on all exit routes and stairwells
There are fire extinguishers on all landing and in kitchens
There is strictly a no smoking, no fireworks and no candle policy. You may smoke in the garden. Three are sand pots provided for used cigarette ends
Mobile phone reception is ok
Please note that the layout may be subject to change
On Site (or via 3rd Party Suppliers that can come to the venue):
Wine Tasting
Cocktail Making
Archery
Walking
Murder Mystery
Catering
Barbecue
Spa treatment
Hot Tub Hire
Gin & Whisky Tasting
Laser clay shooting
Off Site:
Wine Tasting
4 x 4 Driving
Go-Karting
Quad Biking
Archery
Clay Pigeon Shooting
Fishing - Fly
Golf Courses
Horse Riding
Pony Trekking
Tennis Court
Murder Mystery
Cocktail Making
Spa
Abseiling
Assault Course
Ballooning
Caving
Climbing Wall
Gliding
Mountain Biking
Paint Balling
Parachuting
Rock Climbing
Beer Making
Walking
Horse Races
Boating
Canoeing
Swimming
Hamps Hall for 20 guests
Waterhouses, Staffordshire, ST10 3JG
Closest Train Station :
Both east Coast Mainline and West Coast Mainline are accessible. Stoke on Trent station is c 16 miles and Derby is c 21 miles
Closest Airport :
There are three airports within an hour to one & half hours drive; Manchester Airport is c29 miles, East Midlands Airport is c 41 miles and Birmingham Airport is c62 miles
Nearby Town :
Ashbourne is c 7 miles and Leek is c7miles. Both are charming market towns
Nearby Shop :
There is a local late shop in Waterhouses c 1 mile away. Larger supermarkets are in Leek and Ashbourne c 7 miles
Nearby Eatery :
The Red Lion at Waterfall is c half a mile (level walk)
Pricing Notes
Booking fee: £65 (non-refundable)
Booking process: 25% booking deposit & 75% balance taken 10 weeks before the arrival date
Security deposit: £500 (taken in a form of a preauthorisation)
Check-in and check-out times: 4pm - 10am
Extras:
Pets: £30 per pet
Day guest: £15 per person
Hot Tub hire: £40 (covers the costs of water and electricity; to hire a hot tub we recommend midlandhottubhire.co.uk)
Early check-in or late check-out: £150
A brief history of
Hamps Hall and Barn in the Peak District
Hamps Hall was originally known as Field House and we believe was built sometime late in the 17th century. There are certainly records of it in 1733. By this time many of the fields nearby had been enclosed. The first record of Field House being sold was in 1736. In those days there was a lovely custom that the buyer and seller met on the land to be sold and the seller cut a clod of grass and handed it to the buyer in front of their friends as witnesses. So they achieved 'quiet and reasonable possession'.
The property was sold on several times and over the years the acreage attached to the house grew larger as farmers bought additional parcels of land. These included Lumber Low, the beautiful little hill above Hamps Hall which is the view from the Hall living room French doors. At Lumber Low stone flints and spearheads were found in an ancient burial ground (complete with skeleton)!
Historically, Waterfall has always relied on agriculture for the main jobs and income. Hamps Hall is no exception. At its height as a farm, it had 80 acres attached. However, records show that various employment was also carried on by its inhabitants. These included a vicar and a horse dealer.
Over the years many characters have lived here. One of them also kept the lovely local pub – The Red Lion at Waterfall, where Party Houses guests still receive a very warm welcome, just a short walk from Hamps Hall & Barn. When Joseph was the landlord, it was during the time that the Manifold Light Railway was being built and he often had to maintain order with the Irish builders who were building the railway track at the bottom of the valley.
There is also evidence of a lime kiln on the land here. Burning lime was very important and the resulting lime products were used for building and for spreading on fields to help maintain their productivity.
Sadly much of the original Field House burned down in 1900 and had to be rebuilt. In 2006 we bought it from Mr and Mrs Carr whose family home it had been for many decades. We knocked down some extremely large farm buildings and sheds – leaving the original beautiful stone buildings. The stone cattle sheds were converted to Hamps Barn and the house was given a complete renovation to make it the lovely Hamps Hall that exists today.
Toft Hall for 20 guests

Near Macclesfield
Midlands and the Peak District

Sleeps: 20

Bedrooms: 10

Dining: 20

Bradshaw Hall for 22 - 30 guests

West Yorkshire
North

Sleeps: 22 - 30

Bedrooms: 9

Dining: 30

Rent Hamps Barn for the weekend at £2200 and get Sunday night free! Valid through January 2023.

Hamps Barn for 20 guests

Waterhouses
Midlands and the Peak District

Sleeps: 20

Bedrooms: 9

Dining: 64