Barley House for 14 - 18 guests
Hen Party Friendly

Stag Party Friendly

Pet Friendly

Accessible Friendly

*

Swimming Pool

Hot Tub
Pricing & Booking
Barley House - East Yorkshire
Sleeps 14 - 18 guests
The price for this property is based on 14 guests, while extra guests can be accommodated at an additional cost.
This converted Victorian railway grain store is nestled in 2 acres and is the ideal choice for celebrations, from birthdays, family get-togethers, and reunions, to hen parties, or wellbeing, artistic and smaller corporate retreats. Barley House can easily accommodate 14 guests in its 3 spacious bedroom suites and 2 large bedrooms. The house as standard offers 12 individual beds when accommodating 14 or less, and additional beds can be introduced to accommodate 18 guests. This is the perfect celebration house as its living spaces are so vast, allowing everyone to be together, while the individually styled bedrooms have the feel of a boutique hotel offering a little haven to enjoy and relax if you need a moment to catch your breath. You'll also love having your very own hot tub on site.
The seaside resort of Bridlington on the East Yorkshire Coast is only 6 miles away, here you can visit the fabulous beaches, shops, enjoy cafes' restaurants and spend quality time with your family filled with laughter.
This particular house delivers the most fantastic and celebrations as it is spacious and gives you enough room to dance the night away, socialise or relax plus you get the option of having your party managed by their exclusive party and events service - Treats at the Retreat. If you wanted to book an activity from a different supplier please note there is an extra fee for this.
Key Features
Hot tub

Large reception rooms for everyone to be together

Beautiful gardens

Amazing views and walks from the front door

Tailored packages for your stay
Reception Rooms & Kitchen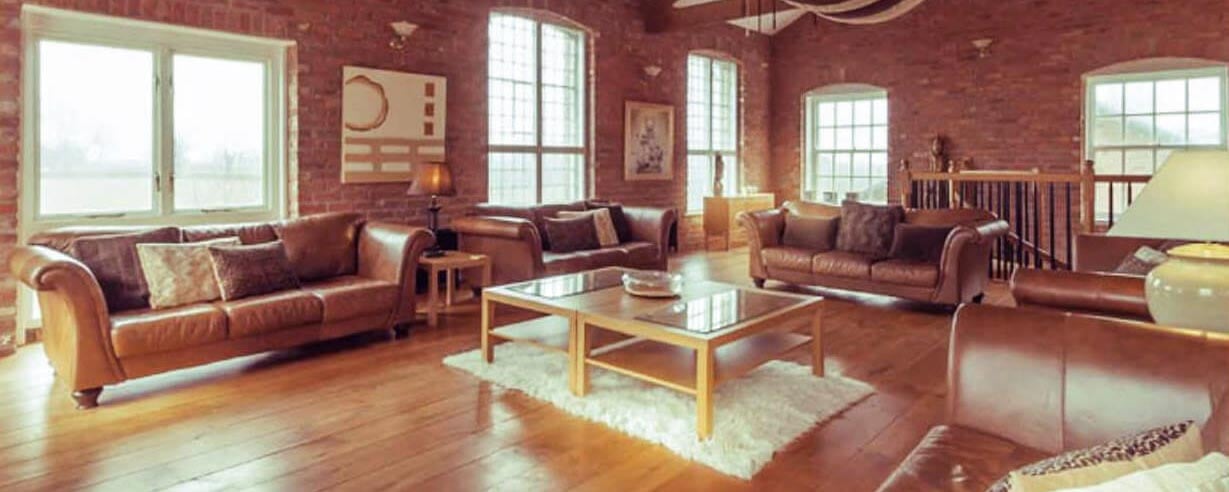 This Party House in East Yorkshire has 3 reception rooms, each of which can comfortably accommodate all of your guests. These reception rooms are multifunctional and can be used as a studio, pre-party, or just as areas to chit-chat with your loved ones. There is one spacious reception room on the ground floor and a lounge on the first floor, plus the glass hall which is ideal for pre-dinner cocktails and canapes or relaxing with a book or laptop.
This popular Party House boasts high ceilings, original beams and has also retained its gigantic King Trusses, hoist beams, and the original cons iron windows (which are now triple glazed).
Demonstrate your cooking skills in the fully-equipped kitchen with a double oven, American style refrigerator, microwave, and dishwasher. Wake up with uninterrupted views from your room, go for a peaceful run, and enjoy breakfast with your loved ones.
You may also welcome up to 80 day guests for any event you may be planning!
Bedrooms
Platinum Suite - En-suite double bedroom (sleeps 2) plus 2 on request for an additional cost
Britannia Suite – En-suite with 4 single beds (sleeps 4) plus 2 on request for an additional cost
Saffron Suite - En-suite with double bed and 2 single beds (sleeps 4)
Green Room - 1 bedroom with a twin or a super king bed (upon request) with a shared bathroom (sleeps 2)

Sail Room - 1 bedroom with a twin or a super king bed (upon request) with a shared bathroom (Sleeps 2)
As the house is split into two sections, the bedrooms are away from the noise of the reception areas which is great news for guest wishing to sleep which makes it perfect for families with young children or older relatives.
Not only does this Party House in Yorkshire offer a hot tub, but you can also book a Spa Day meaning there is no need for you to leave the house, everything can be brought to you. In addition, the owner also offers tailored catering and entertainment packages to make your stay even more decadent. Barley House can also be used for so many different purposes as in addition to offering exclusive catering and entertainment packages to give you the most amazing party, their event planner Treats at the Retreat can also provide guests with yoga, well being, spiritual and art retreats for groups and providers. No external providers are allowed so please contact us for a brochure of available packages and providers.
Themed Parties to Remember
If you are searching for the ultimate sophisticated hen party without having to spend days arranging and worrying if it will all come together, then Barley House is a wish come true. All hen parties are tailor-made for you according to your budget and taste, any special dietary requirements can be taken care of too! Barley House packages will organise your stay perfectly to give you and your girls a decadent and unforgettable experience. Ask us for a brochure!
This historical Party House provides big, light spaces with a modern, organic ambience lends itself to residential retreats for Wellbeing and artistic workshops such as yoga, painting and writing. You can also host everything from banquet meals to live music via the manager.
Event, Workshop and Retreat providers, please feel free to discuss your needs with our exclusive event and party planning service who can work with you to create a package which removes the stress for the organiser and their clients will not be able to resist.
If you're planning a getaway with your family and bringing children, you'll be happy to know that all the floors are carpet free, being either oak or stone, making it hygienic and allergy friendly. Highchairs, travel cots, and stair gates are also available, so you do not have to worry about bringing those along. Big and little kids will enjoy the courtyard where there is an 8-seater hot tub while the more energetic have a large lawn to run around and play.
Up to 80 day guests for events!
Corporate
Barley House is suitable for smaller corporate events or team buildings. Catering and activities can be provided on the premises to make your event flow effortlessly. No external providers are allowed so please contact us for a brochure of available packages and providers. The spacious reception rooms feature comfortable couches where employees can sink into, relax, discuss and brainstorm. You can expect a lot of privacy in this serene venue. The dining table for 18 delegates can also serve as a conference table.
Accessibility
Barley House has 2 bedrooms on the ground floor which share a bathroom. However, there are 3-4 steps down from the hall to the bedrooms, and a further 3 steps to the dining room. Please contact us for more information.
On Site (or via 3rd Party Suppliers that can come to the venue):
Spa
Catering
Hot Tub
Gin & Whisky Tasting
Life Drawing
Yoga/Dance Studio
Off Site:
Gym
Massage
Hiking
Cycling
Boating
Sailing
Local Area
Burton Agnes and the local area also offers various garden events, fairs and jazz festivals in the area which are a joy to visit. The surrounding countryside and coastline are stunning and vast, with cycle and walking routes right at the bottom of the driveway. Take a drive to Bridlington, a nearby coastal town just 6 miles away from Barley House. There's also a couple of lovely pubs and restaurants where you can enjoy tasty food and drinks such as The Blue Bell Hotel and St Quinten's Arms.
Pubs & Restaurants
The Blue Bell Hotel - 0.2 miles (5 mins walk)

St Quinten's Arms - 1.7 miles
Barley House for 14 - 18 guests
Driffield, East Yorkshire, UK
Closest Train Station :

Burton Agnes Main Street Train Station - 0.6 miles (10 mins walk)  
Closest Airport :

Humberside Airport - 44.1 miles (1hr drive) 
Leeds Bradford Airport - 66 miles
Nearby Town :

Burton Agnes - 0.3 miles
Driffield - 7.3 miles (approx 10 mins drive) 
Harpham - 1.9 miles
Killham - 3.7 miles 
Pricing Notes
The price is based on 14 guests while extra guests over 14 are at £80 per person.
Booking process: 30% booking deposit & 70% balance taken 10 weeks before the arrival date
Security deposit: £350 (not included in the price & taken by the owner)
Check-in & check-out time: 4pm - 11am
Booking Extras
Added guest: £80 per person
Chels Barn and Toft Barn for 24 guests

Near Macclesfield
Midlands and the Peak District

Sleeps: 24

Bedrooms: 12

Dining: 24

Toft Hall for 20 guests

Near Macclesfield
Midlands and the Peak District

Sleeps: 20

Bedrooms: 10

Dining: 20

Merrymeet for 16 guests

Waterhouses
Midlands and the Peak District

Sleeps: 15 - 16

Bedrooms: 7

Dining: 16

Bradshaw Hall for 22 - 30 guests

West Yorkshire
North

Sleeps: 22 - 30

Bedrooms: 9

Dining: 30

Hollow Meadows Hall for 20 guests

Hollow Meadows
Midlands and the Peak District

Sleeps: 20

Bedrooms: 10

Dining: 20

Upper Denton House for 15 guest

Gilsland
North

Sleeps: 15

Bedrooms: 7

Dining: 16