Yorkshire Stone Retreat for 14 guests
Pet Friendly

BBQ

Fireplace

Hen Party Friendly

Stag Party Friendly

Accessible Friendly

*
Pricing & Booking
Yorkshire Stone Retreat - Yorkshire
Sleeping 14 guests
Yorkshire Retreat has two bespoke venues; Yorkshire Stone House and Yorkshire Stone Cottage that can be rented together for a larger group sleeping up to 14 guests, or individually.
Yorkshire Retreat is the perfect place for an active group or multigenerational family getaways only. Situated by the Yorkshire Dales National Park, there are endless outdoors activities for you and your group to explore. Be a Celebration, a retreat, or a multi-generational family holiday, Yorkshire Retreat can accomodate to all kinds of holidays.
Inside both properties you will find exposed beams, open fireplaces, loft suite and a farmhouse style kitchen diner which is great for gatherings.
Key Features:
Gas BBQ
Open fire place
Large flat screen TV with full satelite package
Central Heating
Spacious Reception Room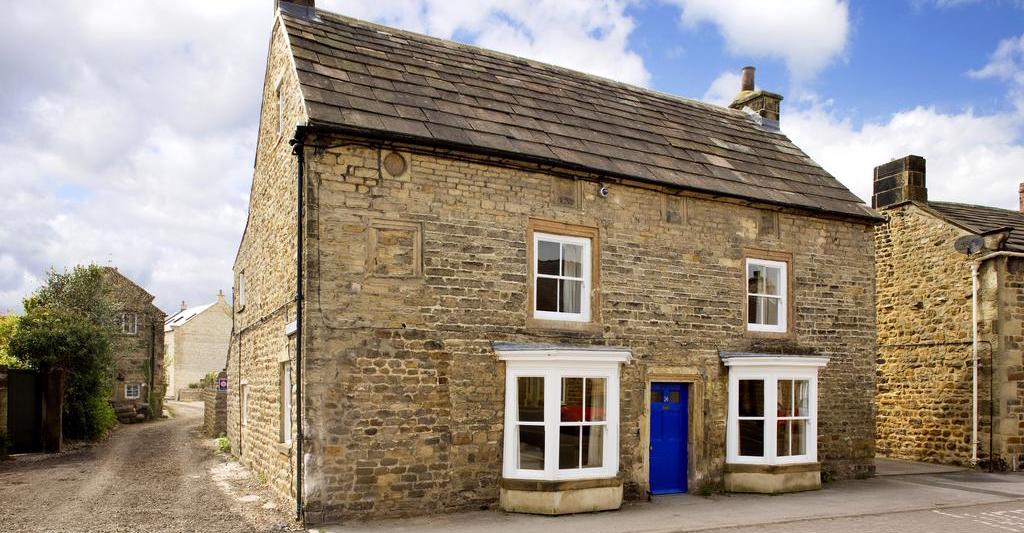 Both properties in Yorkshire Retreat (Yorkshire Stone House and Yorkshire Stone Cottage) were built in the 17th Century and 19thCentury. Now, both converted into a characterful living space, they keep their special features such as the open fireplace, exposed beams, and a farmhouse style kitchen diner.
Bedrooms
Yorkshire Stone House:
1st room: 1 large super king brass bed
2nd room: 1 double bed
3rd room: twin beds and a shower ensuite
4th room: 1 large master suite with a king size bed with ensuite bathroom. There is also a single daybed in this room.
Yorkshire Stone Cottage:
1st room: downstairs double bedroom with private patio doors to the garden, and a wetroom en-suite bathroom.
2nd room: 1 king size bed
3rd room: 1 single bed and an additional pull out
There is a fence to separate the private garden area, and private passage to the Yorkshire Stone Cottage which is a fully equipped venue. There is a kitchen, reception and dining area and central heating for you to stay warm during the cold months! Both properties have a flat screen TV, perfect to ensure a relaxing evening after a long day of walking!
Outdoors
Positioned in the old market town of Masham, this retreat has easy access to endless walking trails, cycling routes and much more. The historic market towns nearby and easy access to the Yorkshire Dales National Park, Nidderdale, North York Moors National Park, Whitby and the Yorkshire coast and Lake District add to the excellent local attractions that this retreat is home to. The Yorkshire Retreat is sure to offer a little piece of tranquility to make your stay one to remember.
Here are some of the main attractions that are on the doorstep of Yorkshire Retreat:
Walking & Nature Trails
Hiking
Cycling
Walking & Nature Trails
Wellness retreats
Thirsk Station (13 miles) and Northallerton Station (14 miles)
Leeds Bradford Airport (40 miles)
On Site (or via 3rd Party Suppliers that can come to the venue):
Cocktail Making
Wine Tasting
WiFi
Off Site:
Activity Centre
Cycling
Hiking
Cider Tasting
Pilates
Laser clay shooting
Horse Races
Walking
Pony Trekking
Horse Riding
Golf Courses
Clay Pigeon Shooting
Archery
4 x 4 Driving
Wine Tasting
Beer Making
Gym
Spa
Assault Course
Caving
Mountain Biking
Paint Balling
Cocktail Making
Quad Biking
Fishing - Fly
Tennis Court
Beer tasting
Canoeing
Yorkshire Stone Retreat for 14 guests
Masham, England, HG4 4HN
Closest Train Station :

Thirsk Station (13 miles) and Northallerton Station (14 miles)
Closest Airport :

Leeds Bradford Airport (40 miles)
Nearby Town :
Pricing Notes 
Booking process: 50% booking deposit & 75% balance due 10 weeks before your stay
Security deposit: £200 (not included in the price & taken by the owner directly)
Check-in and check-out: 4pm - 9.30am
Toft Hall for 20 guests

Near Macclesfield
Midlands and the Peak District

Sleeps: 20

Bedrooms: 10

Dining: 20

Pulborough Barn for 14 - 18 guests

Pulborough
South East

Sleeps: 14 - 18

Bedrooms: 4

Dining: 50

Victoria & Albert Barn for 14 - 16 guests

Blandford Forum
South West

Sleeps: 14 - 16

Bedrooms: 5

Dining: 16

Chels Barn for 12 guests

Near Macclesfield
Midlands and the Peak District

Sleeps: 12

Bedrooms: 6

Dining: 24

Toft Barn for 12 guests

Near Macclesfield
Midlands and the Peak District

Sleeps: 12

Bedrooms: 6

Dining: 12